Farrah Fawcett started her career in Hollywood after being elected one of the ten most beautiful women of her sophomore class. She starred in several commercials until her big break in "Charlie's Angels".
Throughout her 20-year career, Farrah Fawcett has hit a number of high marks. Her famous red-swimsuit poster, enshrined in the bedrooms of countless male teens in the '70s, remains among the best-selling posters of all time.
After launching a career on her Barbie-doll beauty, she garnered critical acclaim -- Broadway's Extremities, TV's The Burning Bed -- and managed to maintain the public's interest while her blonde-bombshell colleagues faded from view.



"When I do a dramatic part, I simply become that character. I can feel the pain, the passion. It's not acting; it's being."

Farrah has garnered nearly a dozen Golden Globe, CableACE, and Emmy nominations and awards for her work. Of her scenes in "The Apostle" depicting domestic strife, writer/director/actor Robert Duvall says, "I know that Farrah had been through that in life. She knows what that's about as an actress." She continues to be actively involved in her work against domestic violence and for charities which provide help and shelter to battered women.



Trivia and Odd Facts about Farrah
| | |
| --- | --- |
| Born: Feb. 2, 1947 | Nee: Mary Farrah Leni Fawcett |
| SO: Ryan O'Neal (1980 - 1997) | Spouse: Lee Majors (1973 - 1982) (divorced) |
| Son: Redmond (b. 1985) w/ Ryan O'Neal | Attended UT - Austin, 1965-67 |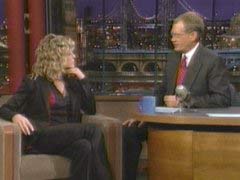 Flighty, scattered appearance on the Late Show with David Letterman fueled rumors that she was on drugs. She later said that her mother told her to be free while on camera, and that Letternman appearance was the result.


She had a rather strange opening night in "Butterflies Are Free" at the Burt Reynolds Dinner Theatre in Jupiter, Florida on July 25, 1980. An obese lady in the front row of tables began yelling insults at her and making bird calls during the performance. Later, this unidentified lady raised her dress and flashed the performers, causing co-star Dennis Christopher to take notice, although the character he was playing was a blind man. Nearby, a male patron began vomiting, and then another patron fainted. Incredibly, the reviews for Farrah's performance were positive.





Back to Top
Back to Main Page






Bio and Trivia from The Farrah Page and IMDb.com. Photos from ambition.com and onlineusa.com.